Elisa Carpiaux is a passionate and exciting Shiatsu teacher in the French-speaking part of Belgium. When I met her for the first time 10 years ago it was in a small Mexican restaurant, to introduce myself and tell her about my plans to open my first school. She was from the beginning not only a friendly support to this project, but since then a person with whom I have always been able to exchange on many subjects. Because what I didn't tell you is that she is not just a Shiatsu teacher, but the 1st Shiatsu teacher in Wallonia. If today there are about ten schools in this part of Belgium, she remains this "first lady" that all Belgian practitioners should meet at least once in their life.
---
Ivan Bel: Hello Elisa. It's really nice to see you again for this interview. The first time we met was 10 years ago. Already… But for the readers who don't have the chance to know you, could you introduce yourself and tell me a little bit about your youth and your awakening to natural health, very early in life.
Elisa Carpiaux: Hello Ivan, thank you very much. I was born January 2, 1970. I am the eldest of 4 children born in the space of 5 years! A father who is a teacher and director of secondary schools, and a mother who is also a teacher. As far as I can remember, my mother has always taken care of us in a natural way, and I experienced macrobiotics very early in my life. She regularly took us to see osteopaths and alternative therapists of all kinds.
My maternal grandfather, who was also a career soldier, had trained himself in homeopathy (early 1950's) and he treated us with passion at the slightest sneeze. So I have been bathed in the soup since my first steps… In addition, all my family on my mother's side worked in alternative medicine, my mother was a therapist, my aunt a homeopath and my uncle an osteopath.
So you grew up in a family environment conducive to awakening your natural health side. Then you go to university, but you don't get too excited about it and finally you go to Canada. Why did you decide to go to Canada? What are you going to do there?
I decided that I didn't know what to do when I graduated from the humanities and decided to go to law school. After two years of hard work, I decided to pursue a Bachelor's degree in Social Communications at UCL. Communication already speaks to me a lot more, but it is towards another way of communicating that I am going to go without knowing it. Indeed, with my diploma in my pocket, I don't see myself launching into active life in Belgium, and I decide to make a jump to Quebec with a friend from university, Quebec where part of my family lives, to find an internship in the field of Communication. I landed in a 'Clownerie' where I sold the services of actors, singers, jugglers… to companies and shopping malls in Montreal.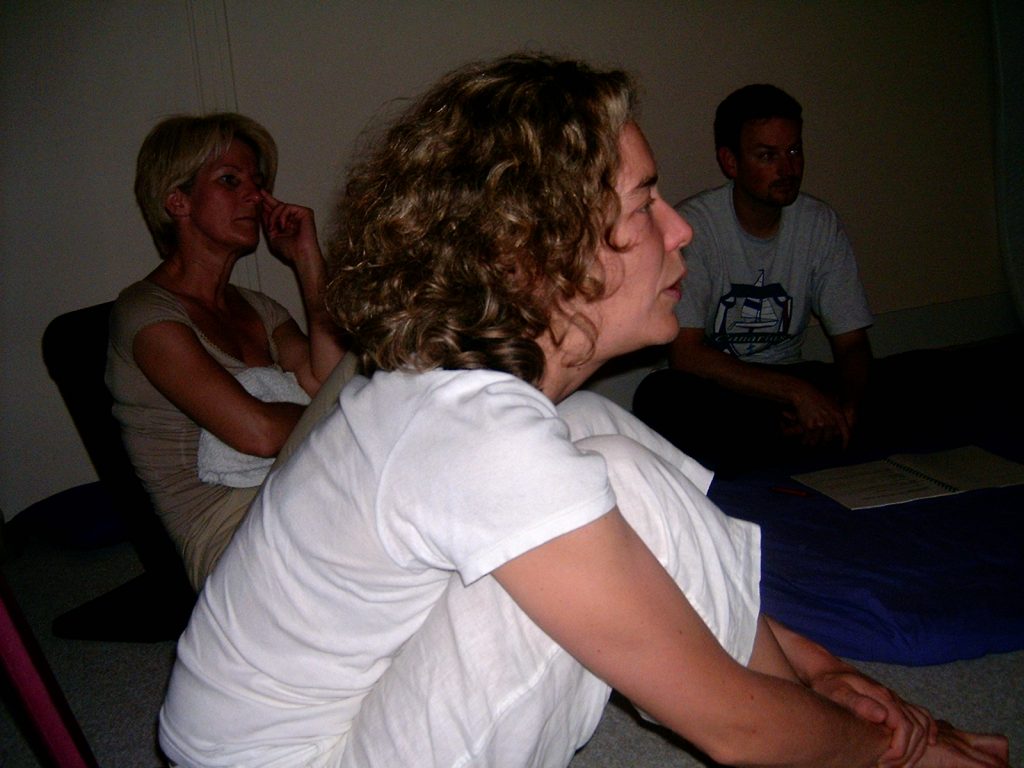 During this stay in Canada you will meet Shiatsu, but here is an incredible story that I let you tell.
I decide to leave for 6 months with 3 other friends to South America to travel through Chile, Argentina, Peru, Bolivia and Ecuador. After 3 months of traveling, the decisive meeting with shiatsu will take place in an unusual place. Arriving in the center of Bolivia amid luxuriant nature, I landed in a small inn called 'Sol y Luna' run by a German woman who provides shiatsu sessions to her guests. I let myself be tempted by the experience and there it is love at first sight. The one you meet only once in a lifetime. I am still moved when I think back on it today. At this very moment, I know what I want to do with my life: to learn and practice this technique. I hesitate to stop my trip to return to Montreal to start a training course, but my friends convince me to finish the trip with them.
"Sol y luna" is not something that can be invented. You might as well write roughly "Yin and Yang", it's unbelievable! What a wink of fate! When you come back after this trip, what are you going to do to learn Shiatsu?
It's 1995, and as soon as I get back, I find out about shiatsu schools in Montreal. I was lucky to be living in Canada at the time, because shiatsu was already well established in this country, and was part of my studies in massage therapy. Schools were legion at that time, unlike in Belgium where shiatsu and massage therapy in general were in their infancy. I visited a few schools and I chose the Hito Center, a school of the heart that has kept a very human side, compared to other schools with more impersonal dimensions that included physiotherapy and massage therapy.
Shiatsu training in Canada is quite reputable, even in Europe. Do you know why?
Some Japanese masters such as Ohashi who migrated to the United States have been developing Shiatsu for years and Canada benefits directly from this. This is why this practice is much more renowned and developed in this part of America than in Europe.
You will work right away with Shiatsu and massages. But if I understand correctly, you start in the street?! Explain to me precisely how it happened.
Yes, one day while walking down St-Denis Street, one of the busiest streets in Montreal, I see a herbalist shop renting space for the practice of massages. I went straight to it and rented two days a week. To make myself known, I don't hesitate to take my massage chair down to the street, and I offer Anma sitting sessions for a dollar a minute. Some people only have 5 minutes of their time, but that's how I develop my practice of longer shiatsu sessions. And very quickly my two days are full!
Great! 20 years ago, in 2000, you return to Belgium. You were then just 30 years old. You already have a good experience of Shiatsu, but you decide not to stop there and go back to school.
In fact, it was already a little before the year 2000, during shorter stays in Belgium, that I looked at what was being done on the training side in Europe, and I was told about IMI Kiental, the International Shiatsu School in Switzerland, in the Bernese Oberland. An extraordinary school, in a magical place, mountains at 360 degrees around the center. I spend extraordinary moments there, suspended in time: 3 weeks of intensive training (10 hours of shiatsu per day) with 50 students from all over Europe. The courses are given in German and translated into all languages. The healthy macrobiotic food is delicious. I have been there several times. I remember, I came home in an incredible shape, a real rejuvenation…
Indeed this school is clearly at the heart of many things that have subsequently developed in the european Shiatsu world. In Namur, you open your practice successfully and quickly start your first initiations. How did your beginnings as a teacher go?
Well, as soon as I came back to Belgium in 2000, I opened a shiatsu practice which started quite quickly. I feel people are very open to discover the practice of shiatsu. A friend who was seduced by this practice and who worked at the "Maison de l'écologie" in Namur, a center that offered all kinds of training in the field of well-being and health, suggested that I give a small introduction to shiatsu. I am a little hesitant and very quickly the trainings follow one another and shiatsu still unknown seduces more and more people.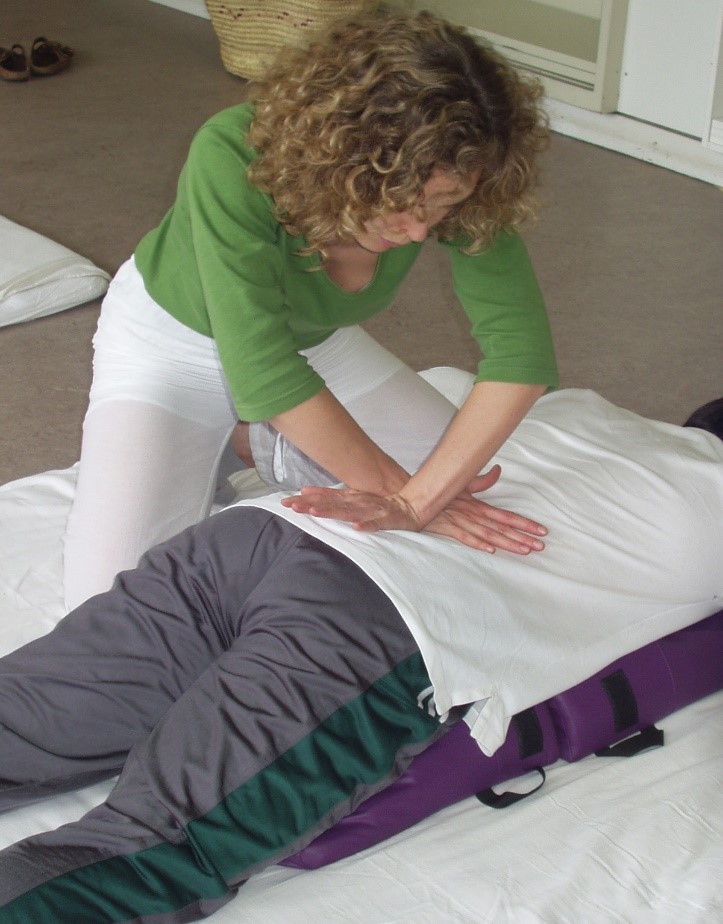 Personally yes, teaching was a challenge for me. I would never have imagined one day that I would teach, as I didn't have a very positive image of the school. Coming from a family of teachers, I had a model in mind that had to be desacralized and reincarnated by my singularity. This was done quite naturally, and I loved to pass it on very quickly. Seeing the real pleasure, the little stars in the eyes of the participants during the workshops is a real gift.
At that time there were not many schools in Belgium. Can you describe the situation in Wallonia at that time?
The only notorious school was that of Master Kawada in Brussels. There was also the Iokaï school. And then some therapists were giving some training on a more private basis. In the end, there was very little choice. People didn't even know the word 'shiatsu', few had ever heard of it.
Finally, you will meet our friend Frans Copers, who is then the president of the Belgian Shiatsu Federation (BSF) that he created a few years before. Under what circumstances and what was the result?
Yes, another beautiful and decisive meeting that destiny put on my way! I see in the program of my fetish school in Switzerland (Kiental) that a master called Master Kishi comes to give a Seiki-Soho workshop. Reading the description of the course, I feel a little bit the same feeling as when I met shiatsu, a call of the soul, I dare to say.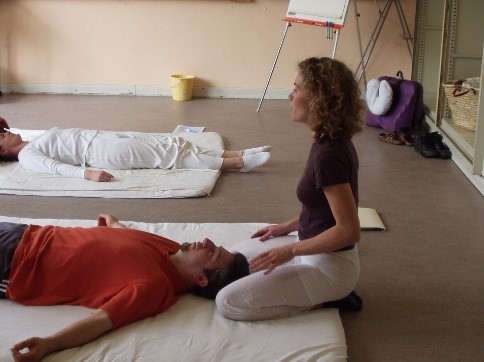 Mr. Kishi's assistant is Frans Copers. Surprised to know that I reside in Belgium and that I give some introductory courses, he shares with me his wish for a long time to enlarge the Belgian Shiatsu Federation in Wallonia and his despair to have little or no answer in this part of Belgium. Flanders was already gathering many shiatsu schools at that time.
we quickly connect and it is quite naturally that he pushes me to be recognized as the first school in Wallonia approved by the Federation. He generously shares with me his great expertise as a teacher and a school. I am enormously grateful to him for having placed such trust in me.
Today you are the headmaster of the Kajudo Shiatsu School. By the way, can you explain this name to me, because it's not common.
Kajudo was born in 2009, it's the continuation of "Massotherapie.be" which existed since my return from Quebec in 2000. I was officially recognized by the BSF in 2007. So it's been 13 years now. So, Kajudo literally means 'the way of the fruit tree', it is my friend and aikido sensei Stéphane Crommelynck who inspired this name. Kaju means fruit tree in Japanese. I love the symbolism of the tree which is so important in our practice of linking Heaven and Earth and which also bears fruit. I like the idea of sowing seeds that one day will create fruits that will bear future seeds…
You have learned several massage techniques in your life. Why did you finally specialize in Shiatsu? Do you think that learning massage is a plus to being a good shiatsushi?
Shiatsu has always been my favorite, as I explained, but when I was in Montreal Swedish massage was very well known and in demand, so I learned it as well to diversify my practice. But the practice of this technique was more of a dietary one for me. I quickly chose to stop practicing it and to devote myself solely to shiatsu, whose knowledge seemed limitless and passionate about it. I don't think that learning massage is really a plus for learning shiatsu, except maybe the fact that all these techniques allow us to develop and deepen our feelings.
You now have 20 years of experience as a teacher and I guess the way you teach is different from your beginning. In your Shiatsu teaching, what do you insist on? What is important to you?
It's true that in 20 years, we inevitably evolve. What seems important to me to transmit first of all is a return to the body, our vehicle, our temple. We came to incarnate ourselves in a body to make this earthly experience. In our modern society unfortunately the body is completely forgotten in favor of the mind which has become the master. Shiatsu allows us to find the right master, that of our hara, our anchorage, our instinct of life and to re-appropriate it. Putting one's head in one's hara is my leitmotiv.
Then the breathing, the comfortable posture, the right intention and the open heart are important concepts for me to transmit.
I also insist a lot on taking care of oneself. When we engage in this Way of Shiatsu, the tendency I sometimes observe with my students who are very excited by this discovery is to put the other before oneself. You can't help someone without starting with yourself. And it's a great way to learn about yourself.
What is your vision of Shiatsu as a manual art?
Shiatsu is a tribute to the life that flows within us. Shiatsu is for me a therapeutic art that brings us back to simplicity. That of being simply and offering to the other through our hands, our listening, our benevolent presence and our pure intention a greater freedom to be oneself and to know oneself. Through this fabulous natural process of self-healing of the body, shiatsu brings a little more peace and harmony in the body and mind of the person who benefits from it. It is each time a journey to the heart of oneself. I am always amazed at what can emerge from a shiatsu session that little by little, layer by layer, brings us back to our essence, the core of our deep being.
With you I am starting (at last!) a series of portraits where I give the floor to women Shiatsu practitioners and teachers. So, I take this opportunity to ask you a question that may be a little complicated: according to you, is there a different way to practice Shiatsu when you are a woman?
It's not easy to answer this question, given the lack of a point of comparison from the inside of course. I would say that the woman may have an easier time connecting with her pelvis, because the power of a woman lies in her womb, the life she is going to transmit originates there and passes through the hara. And in that sense, she is more connected to her instincts directly through the hara and in a natural way. The man will gain by anchoring himself in his pelvis where the raw energy resides to let it rise towards the heart. For it is said that man's strength lies in the heart.
I like to end my interviews with one or more pieces of advice that could be given. I would like you to give advice to practitioners who are starting out on this path, those who are already facing the difficulties of managing pain, human drama, etc. I would like you to give advice to those who are starting out on this path. How do you manage to get through, year after year?
There would be so much to say…
I will say first of all, to reconnect with nature, our greatest master, as often as possible, trees can give us great support to unload what does not belong to us and to put down roots.
Remain humble and consider each person who arrives with his or her problems as a facet of yourself that still needs to be transformed, improved… I like to see the person as a mirror that gives me the gift of reflecting my condition of the moment. It is never by chance that a person has come to my office.
Another aspect of humility is also to realize that even though I am the one working with my hands, my body and my knowledge, I am only a channel of universal energy at the service of the greater whole.
Also along this path, as I was saying earlier, it is important to be attentive to one's limits, to give to oneself what I like to give to others. Know how to balance giving and receiving.
I think it is also necessary to dare to ask the question which part of me I come to repair or save when I engage in this work of accompanying others. Because if this search to help the other fills a void in me, then I am not in the real gift. I can only truly give to the other if I am first nourished and filled by the love and caring that I give to myself. It is a very important personal work of introspection to accomplish on oneself.
Here are some advice in the form of sharing that have been my milestones throughout this exciting life journey.
Thank you very much for this exchange and we look forward to seeing you again soon.
My pleasure.