What is Shiatsu ?
When a person suffers or does not feel good, they instinctively reach to the painful area looking for relief. This instinctive gesture was built upon and expanded to a full blown art in Asia thanks to massage and digitopressure. Later on, Chinese medicine showed the interaction between the energy of the meridians and the physical body. Shiatsu therapy (which means "finger pressure") is a combination of both approaches, instinctive and theoretical, technical and energetic. Coming from Japan, this manual therapy is recognized as among the most interesting ones by the European Commission. It has also been an official medicine in Japan since 1964. In France, shiatsu has been recognized as a profession since 2015. The Ryoho Shiatsu style is the study of all aspects of shiatsu, namely:
Mechanical Shiatsu (stretching and osteoarticular stimulation)
Energy shiatsu (meridians, families and combination of the points)
Therapeutic shiatsu (pathologies, pulse measurement, oriental diagnosis)
Personal development (self-shiatsu, work on tactile sense, meditation, qi gong, …)
Oriental Medicine (theories, energy physiology, visceral psychology, moxibustion)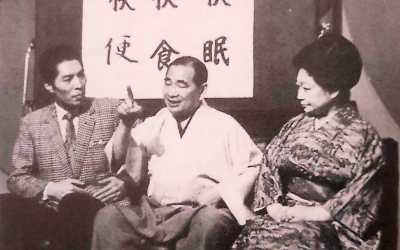 What do we really know about the life of Tokujiro Namikoshi? Not much, really. There is no official biography and that's a pity. Everything that is said about him is mainly by word of mouth, but with all the possible and imaginable distortions. However, there is a way...
[facebook_events col="2" posts_per_page="12″ past_events="no" order="asc" orderby="event_start_date"]