Among the great Japanese masters who spread Shiatsu, there is one who is less known to practitioners, because he was first and foremost a master of martial arts. A student of many fighting styles, he became a student of Okuyama Ryuho sensei (founder of Koho Shiatsu). This is Harada Shinsei, founder of the school of both the martial art and Shiatsu Jigen ryū.
---
HARADA Shinsei was born on December 28, 1939 in Nagano (長野市) in the prefecture of the same name, on the island of Honshū. At the age of eight, the family moved to Osaka, where he was accepted at age 11 in the school of Shi Tennō-ji (四天王寺), the oldest Buddhist temple in Japan,[1] and later took his priestly name "Kojun".
From about 1954 to 1961, he practiced Kodokan Judo at the Uenomiya Gymnasium under the direction of WATANABE sensei, then Daïto Ryū Aikijujutsu and Takuma Ryū under the direction of TAKASHIRO sensei. From about 1963 until the early 1970s, he studied Hakko Ryū Jujutsu and Koho Igaku Shiatsu, first under GOTO shihan, then directly under founder OKUYAMA Ryuho, and received the highest license from this school. In addition to his activities concerning close combat systems, HARADA Sensei also practiced Muso Jikiden Eishin Ryu Iaijutsu (sword) and later Heki Ryu Kyudo (bow) under the guidance of ENDO shihan.
He then founded and taught Jigen Ryū, a system based on all these experiences, which was first called in Europe "Daiwa Ryū" (大和流) but was also officially renamed "Jigen Ryū" (慈眼流, lit.: School of Vision of Compassion) in 1991. Beware, connoisseurs of Japanese schools are not mistaken. The word Jigen Ryū is homonymous from the ancient and venerable Jigen Ryū school but whose characters are written 示現流 (literally School of revealed reality) and which was founded by Tōgō Chūi at the end of the 16th century.
From 1981 to 1984, by order of Shitennoji, HARADA sensei lived and taught in Austria, then alternated between Belgium, England, Japan and Austria, before returning to Japan in 1991. He established a traditional Kyudo dojo near Suffolk, England. He taught in a mixture of Japanese, English and German, but most of his teaching was through the body. He frequently returned to Austria to teach his students, and at other times they came to Japan to continue learning there. Among them, Frans Copers, founder of the Belgian Shiatsu Federation and former president of the European Shiatsu Federation, he is the heir of the Jigen-ryū school for Belgium. Here is his testimony about HARADA sensei.
"I met HARADA Kojun shinsei (= reverend) in the late 80s, a few years after my first trip to Japan, where I stayed 8 months to study Shiatsu (Iokai Center); train in Aikido and learn more about Macrobiotics (Sei Shoku) and Japanese medicine and customs.
In fact, one day, while crossing the city, I saw a Japanese man dressed entirely in traditional clothes, hakama, haori, tabi, tatami, zori…. And I couldn't help but address him in my poor Japanese. Fortunately, he also spoke German and some English.

Harada Shinsei turned out to be a Buddhist priest of the Shitenno-ji Buddhist temple. He was also an expert in martial arts (Jiu Jitsu, Iai Jitsu, Tameshi giri and Kyudo), Japanese medicine (Shiatsu, Acupuncture, moxa), Shodo (calligraphy) and Chado (tea ceremony). On top of that, he was also a great cook!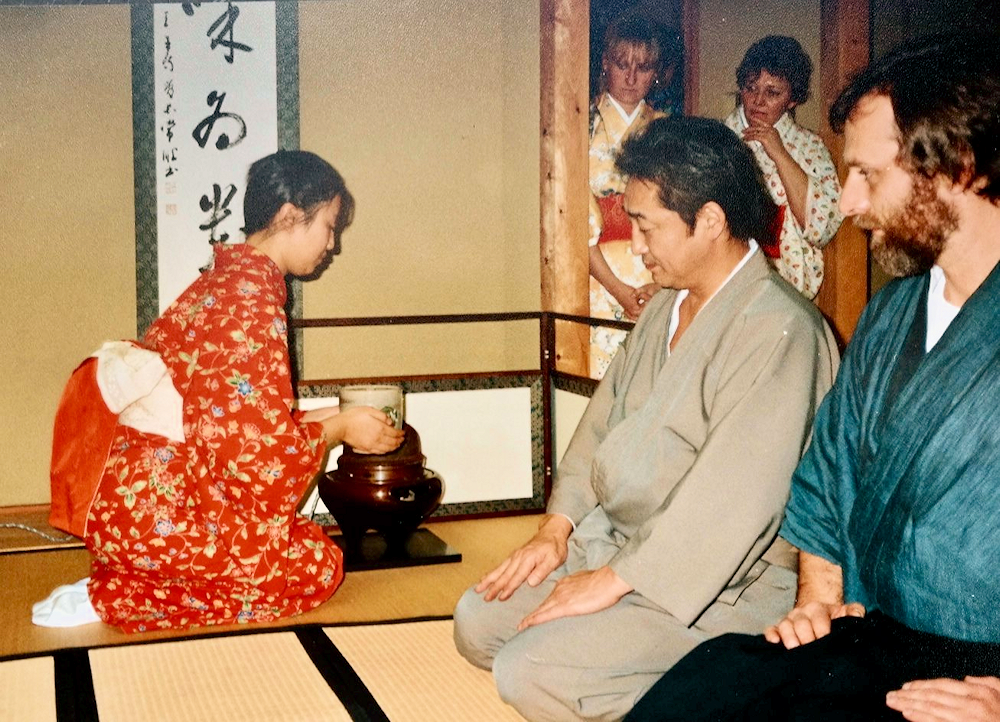 He was the principal master of the European branch of the temple which, in addition to spiritual practice and meditation, also ran a hospital and school, much like Catholic monasteries did here in the Middle Ages. The temple had a large property in England, near London (Suffolk), where there were classrooms, dormitories, a Buddhist temple for worship and a Kyudo (archery) dojo.

They also had a big house, or rather a small castle, near Vienna (Austria) and another near Ghent (Belgium), the city where I lived and still live, where they took their high school students to get in touch with and study Western culture and way of life.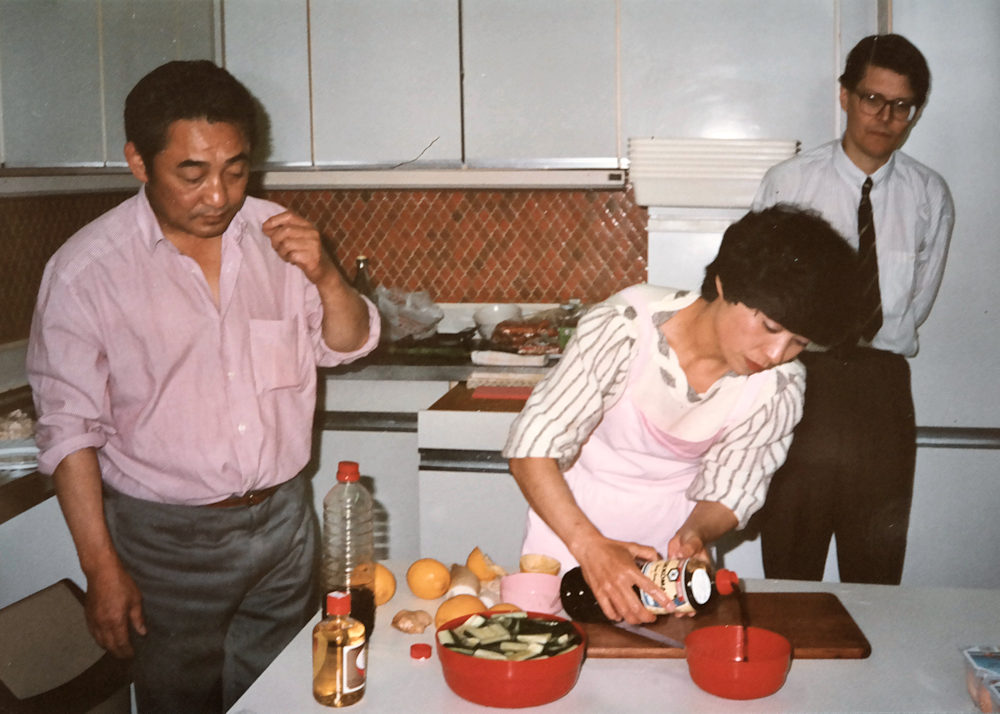 For three years, I studied intensively with him, we meditated together, practiced martial arts and especially studied shiatsu and oriental medicine of course. I assisted him in his workshops and organized some Japanese events with the staff of Shitenno-ji, such as Deguchi Shinsei, the president of the European branch. These events were very successful at the time. (Nihon no Yube or Japanese Awakening and Nihon no Matsuri or Japanese Festival).

Before returning to Japan, he appointed me as a teacher at the Jigen Ryu Kappo shiatsu school.

Since he returned to Japan, I have not heard from him, but he is still a part of me and my life and will always live in my heart!"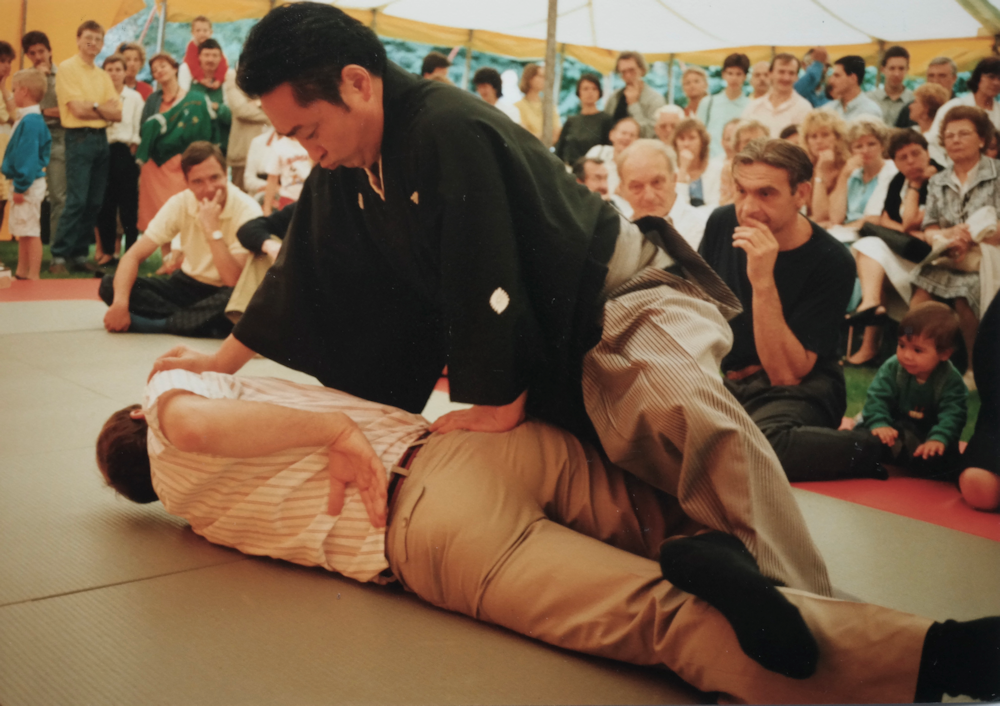 The essentials of the Jigen Ryu Shiatsu Method in a few points
We treat the meridians, not the points.
Pulse diagnosis and detection of the most Kyo meridian.
Treatment of the "balance" meridians Liver, Gallbladder, Triple Burner and Pericardium. With the technique I call Kangaroo: we treat the entire meridian rhythmically with an interval of a few cuns between each pressure.
Treatment of the Kyo meridian with the Piqure technique. We touch the point, gently press to the edge of tension/pain, wait a moment and give a sudden and strong pressure with sudden release as well.
The Kangaroo technique is considered lighter than the Piqure technique.
It should be noted that the meridians also have another quality such as the treatment of the Bladder serves to tone the whole body and the treatment of the Stomach meridian is considered to have a relaxing effect.
There are other techniques to treat local problems, we do moxa, acupuncture and we use Hirata Zones. These areas could be compared to the dermatomes of Western medicine. »
In 2003, he was diagnosed with cancer that was well treated. It was not until October/November 2005 that Harada sensei held his last Jigen Ryū Jujutsu seminar in Vienna and celebrated "100 years of Jiu Jitsu in Austria". Back in Japan, following a serious illness, Harada Sensei ended his earthly existence as they say in the Buddhist tradition, on October 9, 2006. He leaves behind a legacy that his students and assistants carry on.
---
Notes
[*] Cover photo: "Shiatsu demonstration at the 'Nihon no Matsuri', Japanese Festival in Ghent."
[1] Shi Tennō-ji Temple was built in 593 by Prince Shōtoku. He dedicated it to the four god guardian kings of the horizons, the shitennō.
---
Author
Translator