Ivan Bel: Hello dear Betty, thank you for giving me some of your time after the madness of this last European Shiatsu congress. I guess you must be relieved that it is over.
Betty Croll: I am very happy it has turned out the way it did. Totally different than we had in mind when we started this, 2,5 years ago. But regarding the circumstances it couldn't be better, with such a nice group of people, very committed and positive.
Before talking about the congress, could you tell me about your journey in Shiatsu?
I started Shiatsu in 2004. One of my children, aged 4, had many health issues and after seeing al sorts of physicians, and specialists and giving her many medications like antibiotics and painkillers, without any positive outcome, I started to look for another approach. I found an anthroposophical doctor who had also a massage therapist in his clinic. After a couple of treatments her health started to improve and infections disappeared. I was so much taken by surprise that I wanted to investigate the working of this sort of therapy. I had studied pedagogy at university, so I did know something about children. Of how things can go wrong, mentally and physically and what can be done. But everything in this study was seen from the intellectual point of view. Nothing was said about the intelligence of the body. I didn't understand it, and I wanted to know how it worked. At first not with the idea of becoming a shiatsu therapist, but out of interest.  So, then I started my first shiatsu education. I finished two different Shiatsu schools – both with a curriculum of 3 three year. And opened my practice. Since then I have worked as a shiatsu therapist with people aged from 6 month to 87 years old. I have worked as well for 6 years in a children's hospital, where I treated children with all sorts of problems, but where the doctors couldn't find any physical abnormality. It was quite unbelievable to see what Shiatsu could do for this group of sensitive and fragile children. In 2016 I finished my acupuncture education. So, I combine both techniques. Whereas acupuncture is seen as more efficient, I find and experience Shiatsu to be a much better approach.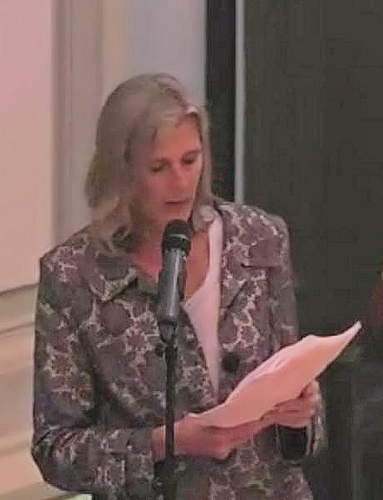 In your opinion, how can Shiatsu respond to the problems of our western society?
I think that Shiatsu as a manual therapy is very helpful to improve one's awareness and consciousness. If a person feels better and understand what is happening and how her or his body reacts to inner and outer sensations, he or she can adapt and change for the better. Shiatsu is not simply a therapy that solves problems. By incorporating the connection with oneself and the other during treatments, I see and feel patients experience a change. Awareness of this inner contact and living it, allows things to come together.
The focus of Shiatsu is to become aware of your body, to become aware of the difference between your inner and outer world. It emphasizes that we are part of a bigger picture, in which everyone is related to everyone and everything.
In a time and landscape where divide and conquer, distance and fear are propagated, connecting in the way Shiatsu is doing, is a powerful force for the good. Finding the connection is, I believe, the anti-dote to fear and division.
As a practitioner, what do you like when you do a session?
I like it, if there is a real change in someone's attitude and awareness. That there is a comprehension of what is happening, rather than solving the problem. Because the only way that things will change, is when there is a movement inside the person him/herself.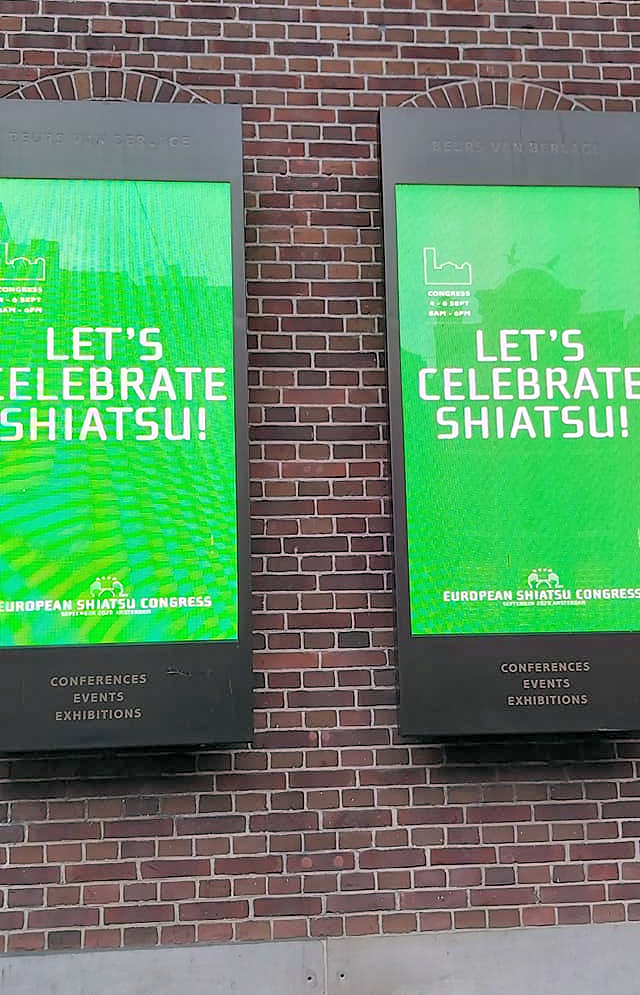 At what point did you say to yourself "what if I organized the European Shiatsu Congress in Amsterdam"?
Well that was not quite the case. Bart asked me, if I would like to join the group. I hadn't thought of it before. But when he asked, I thought it would be great if we could organise this event and by doing so increase awareness of Shiatsu, to become more known by the public and the regular medicine.
What is incredible is that you are not a teacher, you don't have a whole organization behind you to support you, but you did it anyway.
Well, please note that there are Bart Bloemers, Karlijn Eijkmans and Daphne Riabokon, who have worked at least as much hard on this project. And we did have help from so many other people to make this happen. Also, we were advised by some teachers in the Netherlands and abroad to make an interesting and a challenging programme.
How long does it take to organize such an event? Were you supported?
Well it took us 2,5 years. At first, we had a monthly contact which became more intense this last year. And full time the last 4-5 months. Yes, we were very much supported by Happy Hara magazine for instance. And also, Cliff Andrews from England with his webinars helped us a lot. And so, did Bas van der Paardt, who was responsible for marketing and technique and live stream. And so many more. In the end we had more than 75 volunteers helping us with this event.
I imagine it couldn't have been easy, especially since the Covid crisis came over it. How did you get through it?
I don't know actually. Of course, many times we thought we had to stop, and couldn't go on. But there was a deep voice inside who said, it was doable. Although we had a lot of forces against us, we wanted very much the people to hear another voice than that of fear. So, I think this deep-down feeling of 'It can be done and it is so necessary', made us to go on.
In the end, after running from one superb practice venue to another, I thought that you had succeeded in your gamble. It must have been a great joy for you and Bart to see practitioners coming from all over Europe despite everything.
Yes, it was unbelievable and touching, and moving to see all these people. It made us cry. That it worked out against all odds.
At this event you innovated by offering live streaming for those who wanted to follow the congress from a distance. How many people followed this "distance learning" in a way?
I am not sure but I think around 250.
The day before the end of the congress I could see you dancing, and during the closing ceremony we all saw Bart's emotion at the end of his speech. What do you get out of all this adventure?
I think the most important thing is that we need so much to be in contact with each other. And that we will continue to try and find ways in connecting with each other. Because without connection there is no life.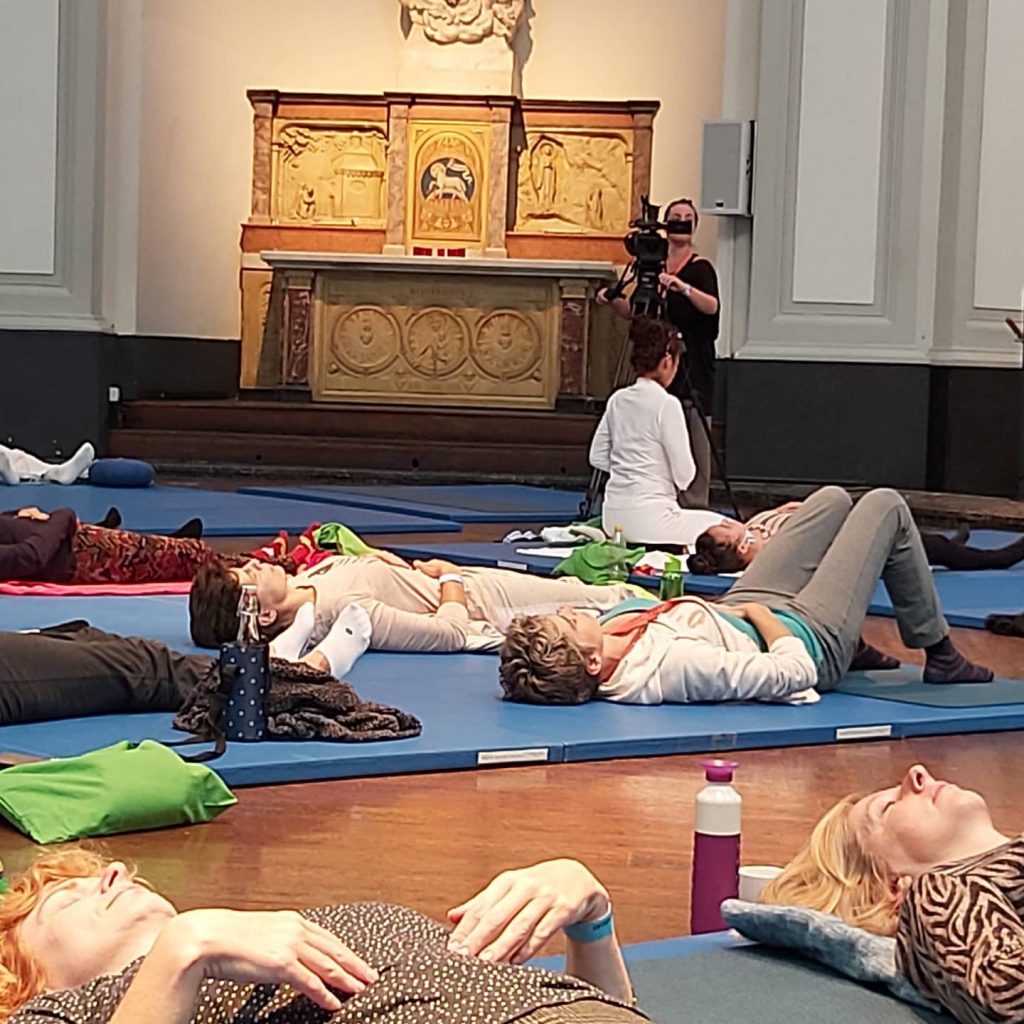 In any case, I congratulate you for your impeccable organization, the choice of locations ; churches, old stock exchange and all in the beautiful city of Amsterdam. What are you going to do now?
First, we have to finalize administrative details and off course ask for feedback from the visitors. And after that I think we all are going to have a holiday if possible, and let ourselves be carried away by the seasons.
Thank you very much.
My pleasure.