Among the great names in the world of French-speaking Shiatsu, Bernard Bouheret is no stranger. Let's judge: more than 40 years of practice, author of many books including the famous "Vade Mecum de Shiatsu thérapeutique", president of the Union Francophone des Professionnels de Shiatsu Thérapeutique (French-speaking Union of Therapeutic Shiatsu Professionals), founder of the International Association of Traditional Shiatsu, founder of the School of Therapeutic Shiatsu in Paris and always teaching with passion and enthusiasm the art and the Way of Shiatsu throughout the world, especially in India where he goes every year. This great gentleman speaks at length here about his rich and astonishing journey to tell us with many details the story of a life dedicated to his passion: that of the care and the heart.
---
Ivan Bel: Hello Bernard. I like to start my interviews with family roots and if it's not unpolite I'd like to know where you come from?
Bernard Bouheret: So, I come from the South of France. I lived a lot in Montpellier, my grandparents were from Nice, Sommières, in short from the whole region there. I did all my schooling there and I stayed there until I was 28 years old to go and live in Paris. I am in my sixty-fifth year, still in Paris. So you could say that I'm a Parisian now.
That doesn't mean that this south hasn't left its mark on you. In fact, one can still hear the accent singing a little.
Yes, the south has marked me, because it was all my childhood and even more. Most of my family is still there and that's also where I studied Shiatsu at the time with Thierry Riesser, the spiritual son of Okuyama sensei.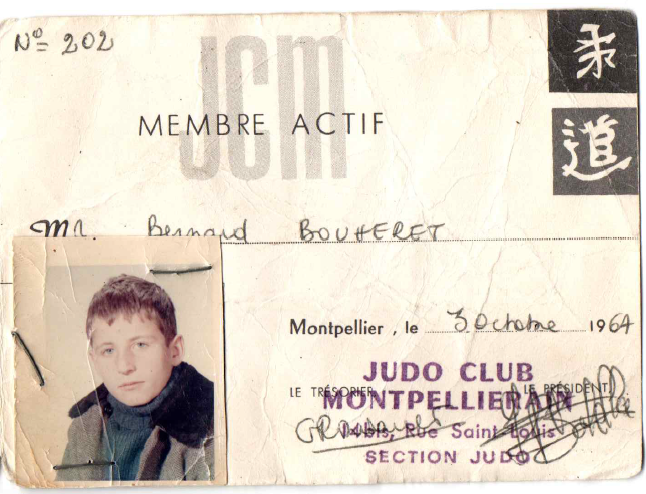 Before we talk about him, can you tell me how your encounter with Shiatsu went, because I know it's a strange adventure.
I actually took my A-levels a little early, before I turn 18. I was an average student and I didn't really know what to study, so I decided to study economics. But as time went by I couldn't find a way out of it, I couldn't project myself into life with that. I was in the same class as my elder brother, because he had done two years of medical school and failed, and I thought that if he had failed this type of study, it wasn't even worth trying, that I wouldn't be able to do it because he was a better student than me. It's crazy when I think about it, I was already beaten on that field when I had my chance of course.
After a while, I went through a love break-up that had touched me a lot and a friend invited me to join her in Africa to take my mind off it. So I stopped studying and went to Cameroon for three months in the autumn of 1976 and I must admit I was a bit lost in life. There everything was exceptional… I went hunting with pygmies, I worked as a steward for a UN geology mission in the deep forest on the border of Gabon, Congo and Cameroon, in sometimes inextricable places for three whole weeks, in short an incredible adventure. Then towards the end of my stay I was connected or contacted – I don't really know how to say it – by a "white" healer.
A white healer in Cameroon? It's not a common thing, you have to come across it!
Yeah, this guy was a mechanic by trade and also a blacksmith's shop carver. But at night and on weekends he was a healer. He was so well known that people came to consult him from all over the country and even from all over the world. He was famous for healing all the junk that there is in Africa: he prided himself on stopping gangrene, drying cysts and other joyous things. He lived on the heights of Yaoundé and was of brittany origins, with blue eyes like mine by the way. In short, an unlikely encounter!
This was done through a friend I had met on the spot and who was to receive treatment at his home. She invited me to accompany her and then it was like a scene from a movie. I entered his den, a special place with suspended metal mobiles made from the remains of a car, and this gentleman – whose name I have forgotten – literally jumped on me and called me "little" and told me to wait until the end of the treatment to talk to me and that I should not leave. He went to treat my friend with a lumbago in 15 minutes, then he came back, falled on me again and won't let me go, telling me how fantastic it is to be cured. He tossed me around, sometimes he yelled at me, insisting, saying "you have to believe me, you'll see one day you'll understand". He was so excited that he jumped up in the air sometimes, it was amazing! He told me that his mother took his hands on his deathbed and that she asked Our Lady for the intersession to transmit the gift of healing to him. His gaze was burning my chest! I later understood that I had been irradiated!
I came out of this interview completely shaken up, shaken from the inside and soon enough I felt my hands getting warm. I had gone away depressed, lost, and when I came back I was another man; this experience and this encounter had transformed me. When I went back to France I told everyone that I wanted to heal. That's how my vocation was born. I was 21 years old.
What a story! I realize it's very young to have a vocation like that. Very few are the shiatsushi who can say they started so early. And then, what do you do once you get back to Montpellier?
Well, I met a friend who is now a big name in biodynamic psychology, François Lewin[i], who gave me a flyer. On it was written "Shiatsu and martial arts". He told me: "You who did Judo when you were young, you should like it". I knew absolutely nothing about Shiatsu, I had never heard of it, but I went there. There I came across Thierry Riesser-Nadal[ii] who was in Montpellier. He didn't stay there for long, but it was a very strong encounter. He had bought a large apartment and a beautiful dojo where he gave his classes. He was a rather surprising person and it must be said that he knew his business well.
It should be remembered that he was the adopted son of Okuyama Ryuho sensei, which is extremely rare for a Westerner, then officially appointed heir of the Hakko ryu jujutsu school (E.N.: "8th light, or ultra-violet [iii] Jujutsu school") and Koho Shiatsu, which went very badly with the other Japanese senseis. Clearly, he was a very good martial practitioner, but he also had a real quality of hands and a gift in his Shiatsu for feeling and going straight to the point. We know how he ended up, alas[iv], and even then he did not necessarily put his art at the service of good things, but rather at the service of his person.
I guess at that time Shiatsu studies were not structured. How much time did you spend studying with Thierry Riesser?
It was 1977, so yes, the studies were not at all structured (laughs). But it was so exciting, really, I came to study one Sunday per month. I forgot to say that he had also bought a Japanese restaurant. I still remember the price: it was 80 francs all day long + restaurant included. Even then, it wasn't expensive. Even for me, who didn't have much money, it was very affordable. In the class there were no more than six of us. It was really another time.
Among the other participants of this Shiatsu class, were there others who made it their profession?
No, not that I remember. No, I'm the only one who went on professionally. François Lewin became a shrink, his wife didn't go on, and my ex-wife who's dead now, didn't continue either. No, I am the only one who became a practitioner with a fabulous physiotherapist colleague called Hervé Scala[v], who trained in 1978. Peace to his soul, he left in 2015. At the same time, I told myself that having a real degree and good knowledge about the body would not be bad. That's why I passed the physiotherapist's exam. But I was not interested in becoming a physiotherapist; I wanted to become a shiatsushi. It must be said that with the physiotherapist I was taught what a structured, organized man, who owns a beautiful house called the body, but it remains the "little man of flesh, bones and blood. Whereas when we go into the dimension of Chinese medicine, it is "the Man between Heaven and Earth", with all his universal and spiritual dimension; his head is round like Heaven and his feet are square like Earth. So what would you have done instead of me? My choice was quickly made! It would be the cosmic man who will be my model.
How are your studies with Thierry Riesser going?
So, to answer your previous question, it lasted two very intense years, because he did as Master Okuyama did. You couldn't access Shiatsu without going through martial arts. So there were Shiatsu workshops, but also martial arts workshops. He was completely "esplanté" (E.N.: "surprised") as they say in the South, because the Judo that I had been taught allowed me to fall very well on the mats and that surprised him a lot. He could ask me to fall in all directions, so he quickly got me to the right one.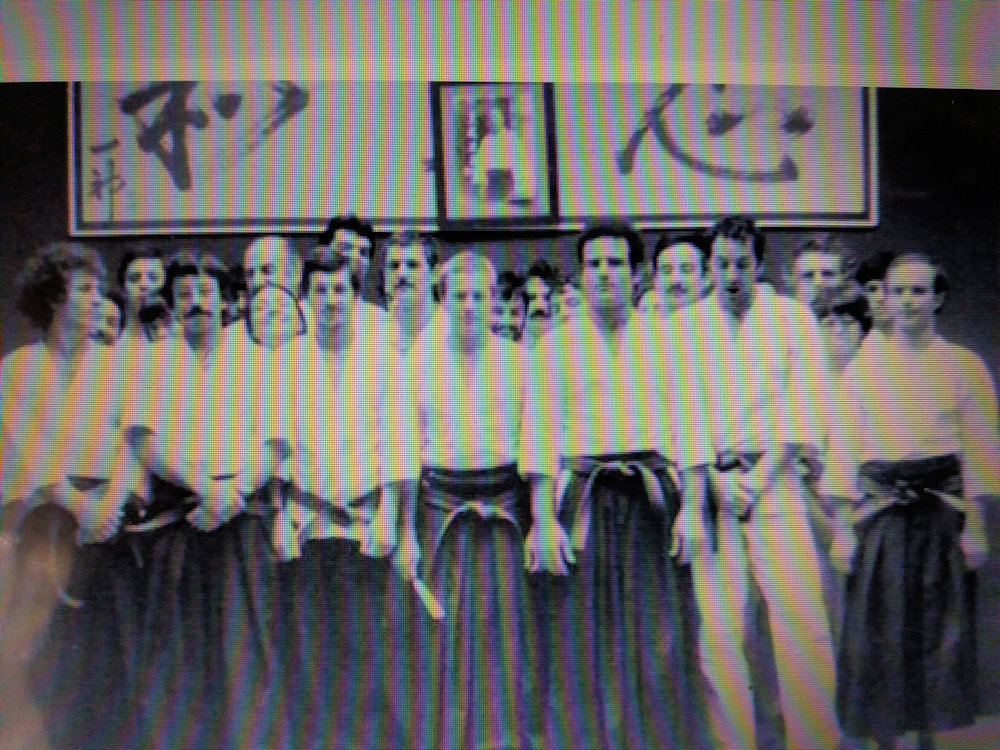 Moreover, he saw that I was going to end up a physiotherapist like him, that I was passionate about Shiatsu, so there was a nice connection between us, and I was so young! Of course he was temperamental and terrible in many ways, but he never bothered me, we always had a good relationship. So he gave me a lot of things, sometimes without his knowledge, but I learned a lot from him, both in terms of content and technic. He was a talented man. You could say that he had as many psychological problems as he had talents, it's a shame he ended up in such a bad way. For example, he was an expert at taking pulses and his touch was incredibly refined. So I learned a lot from him, even though I realized that you shouldn't stay in his lap.
At the same time, I was a trainee in a hospital pneumology department. It was very interesting because I did respiratory physiotherapy and it was no joke because you literally save lives when you know how to do an effective "clapping"[vi]. So I stayed six months in this department. But we also saw people dying and the good side of these studies in physiotherapy was to prepared me for the profession of therapist, to have confronted me with suffering and death. I also met a physiotherapist who was also an acupuncturist and who gave me a good contact to follow an acupuncture course. I decided to follow these courses and there Thierry took offense. Anyway, I explained to him that I was doing what I thought was essential to deepen my knowledge of Shiatsu and I started two years of studies in Chinese medicine under the direction of Patrick Fleury. This man is not very well known today, yet he was the valedictorian of many acupuncture schools. Once again, there weren't many of us, 8 or 10, not many more. All these subjects were not yet in vogue with the main public. So we had the feeling that we were participating in something important, that we were pioneers of sorts. We were all passionate, nobody was thinking about money but wanted to have a good life and follow a good path. For that the 70s were blessed! There was a wind of freedom and open-mindedness that we may never see again.
It's starting to be quite an academic journey…
Ah, but that's not all, hang on tight. At the same time, I was taking classes with Jean Maillet (whose son François Maillet is a renowned homeopath) who was a liquid air phycisist. For two years there too, he taught us Chinese medicine, but through the prism of physics.
Amazing! And how does it look?
I give you an example. Concerning the 6 qualities of the Chinese Heaven he told us: "but no, in fact it is all about pressure, volume and temperature, in other words in Chinese medicine, it is: fullness-empty, dry-wet, hot-cold". He went through all the Chinese medicine like that, plus a big contribution from the Yiking (E.DN.: the book of Mutations) because he loved it. There we were high as hell and I remember in the first class we looked at each other and wondered where we'd fallen. (Laughs). We were… in the cosmos! I've made a lot of progress thanks to this scientific vision, but we had to hold on.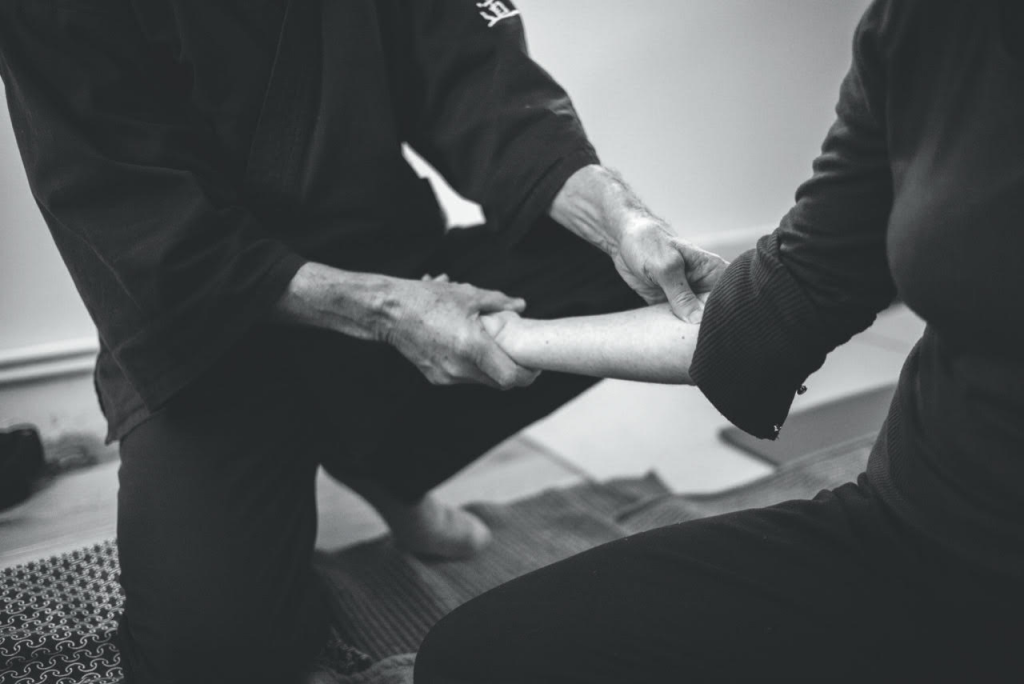 By bathing in this martial and Shiatsu environment, the desire to go to Japan is growing. However, it seems that Thierry Riesser does not want to support you in this process. What's going on?
It was the end of 1980 and I talked to Thierry Riesser about it, because obviously he told us about Master Okuyama and the dojo there, he also explained that one could not go to Japan without being recommended, especially to enter a school as an uchi-deshi (E.N.: student living permanently with the master's home). But when I asked him, he didn't want to. Why not? I never really understood the reason, probably because of his personal troubles there or his temperament. But my friend Hervé Scala had been there just before and he wrote me a nice letter of recommendation. In the spring of 81, I left for the north of Tokyo, in the small suburban town of Omiya in the province of Saitama.
I guess it was a huge change of scenery both humanly and culturally, wasn't it?
At that time, to go to the Saitama it was necessary to take the train to the great suburbs of Tokyo for at least two hours and then I wandered the streets before finding the dojo. The dojo was a three-story building, which is rare in Japan. The sensei was really rich. As Hervé had been very appreciated with his friendly face like a Tabarly (E.N.: Eric Tabarly was a famous french sailor and competitor. He won many races on the oceans between 1964 and 76), I was very well received, much better than if it had been Thierry who had recommended me because he had left a bad memory because of his terrible character and his sickly ambition. So it was the chance of a lifetime for me because I was very quickly included in the family, especially because of the affection of Okuyama sensei's handicapped son and especially his grandson Takashi who adored me[vii].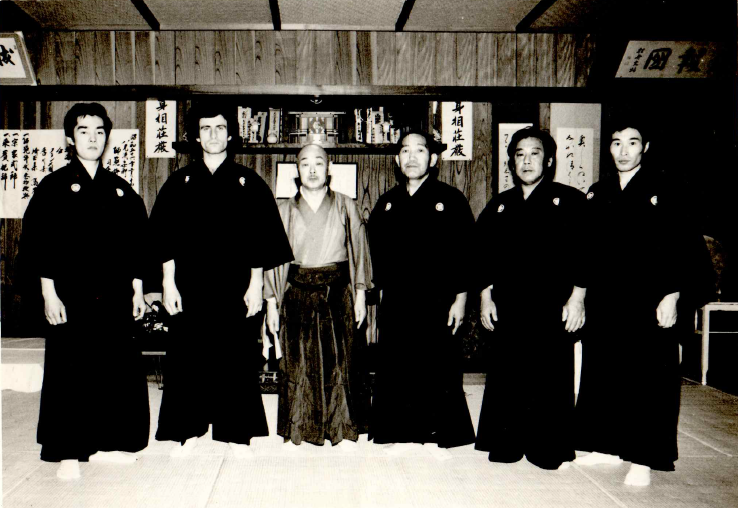 There was also a story with a lot of sake from the first night I arrived, that earned me great fame in the dojo and also in the whole city of Omiya. To make it quick, I was found drunk in the toilet and that was received in Japan as having gone to the end of oneself. Unbelievable, isn't it? I had somehow passed my ordeal and I was now one of them, everyone was tapping me on the shoulder with a knowing smile.
My senpai (E.N.: student who is more advanced than himself on the Way, even if he is younger in age) was Yasuhiro Irie, a man of extraordinary kindness, but also a true martial arts genius. He also had the advantage of being the only one who spoke English, and a friendship that still lasts today was born at that time. He was a fabulous big brother and protector for me. Without him this stay would have been hell.
I had a terrible six months. Every day we worked 6 to 8 hours a day at the dispensary then in the evening we had two hours of training in Yawara (E.N.: ancestor of the current jujutsu). We trained with incredible intensity. For Shiatsu I wasn't allowed to practice, but only to watch for hours. Then every night, we went out and drank crazy drinks and karaoke was a must. Sometimes we only slept for 3 or 4 hours and then it was off again. You had to keep up. The physical work was so intense that I felt kneaded, twisted in all directions and in my dreams a force was at work and continued to rinse me, to work deep inside my cells. In addition, the Shinto and the kamis were very present with many ceremonies and I had the feeling that all this was moving me without stopping, day after day, night after night. You know Aikido, but there, techniques like nikkyo were always done thoroughly and without precaution. In the evening my body was exhausted, but I still had to go out to drink and sing. It was a crazy life. Unforgettable Japan, but so tiring!
When I had a little time, Irie would take me on his scooter and we would go to join his parents who were gas and charcoal merchants; they would teach me Japanese words, to count with the Chinese abacus, it was a complete immersion in everyday Japanese's life. Irie would deliver the bags of charcoal and gas bottles and I would go with him. I had to make people laugh with gags agreed in advance and he would laugh at me gently: guaranteed success with our comic duo. When we had nothing to do, we stayed with his parents at the shop. That's where I saw the deep Japan, the Japan of simple people. There were mom and dad and a little white dog. And we felt so good together. At the dojo it was a different story, because Okuyama sensei wasn't from the same social class. He was rich and famous. He had a great reputation, and celebrities would come to his house for treatment. There, people came without any appointment, the clinic was open all day long and we waited in the waiting room, that's all. They were all dressed in Japanese style, like in the 19th century. One day, there was no one to run the clinic, everybody had somethoing to do outside, so they told me it was my turn to run the clinic and I was terrified. But nobody came (laughs). I stayed the whole afternoon by myself.
What relationship did you have with Okuyama sensei?
It was not only with the master that it happened, but with the whole family and what a strange family. When I arrived, I saw Waka sensei (E.N.: litt. "Young master", the heir son) who had shaking hands because he drank so much. Then his second son, handicapped from birth, who jumped on me to hug me and he tried to do that every day. He was slightly trisomic and it was an incredible thing to have to hide because he wanted to kiss you at all costs. Finally, his grandson Takashi – Taka-shan as he was affectionately called – who was two years old at the time, became infatuated with me and didn't want to leave me. He looked for me everywhere and called me all over the dojo. So seeing that the whole family loved me, Master Okuyama really had me in his sights.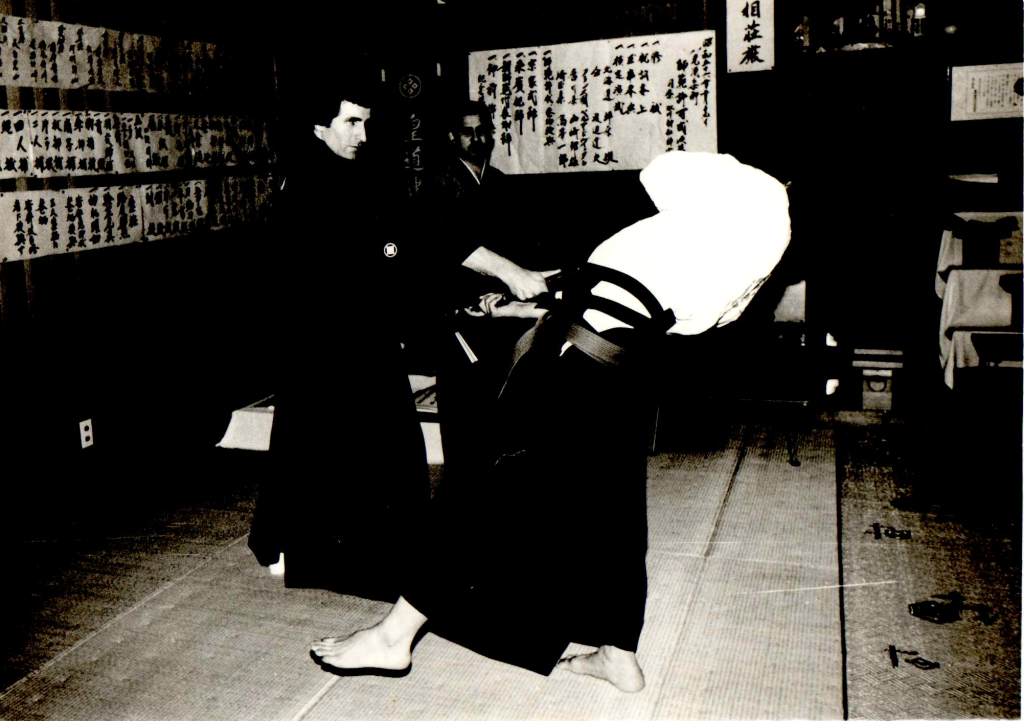 But you didn't practice Shiatsu that much all these months?!
When I came back to France, I didn't dare to say I hadn't practiced Shiatsu, you can write it in your article. On the martial side, I had made incredible progress, I came back with muscles everywhere and a dry body, ready for anything. But I had gone there for Shiatsu and I thought I hadn't learned anything. Except one Sunday a month when advanced practitioners came from all over Japan to exchange, to practice together. So at that moment, yes, I could do Shiatsu with them. But in fact I learned a lot, except that it wasn't intellectual. It was the body that had learned a lot about the posture, the rhythm, the intensity of presence, knowing how to observe and "steal" the technique with the eyes, the availability of the body and its reactivity to the slightest change, the ability to hold for hours and hours without weakening. In fact, I did like the Japanese: I kept quiet and learned by observing. I was marked with iron by this passage in Japan. I've never suffered so much, but what a life lesson! An initiation in fact.
When you came back home, you are no longer the same man and make the decision of a big change of life, direction Paris. It's a bit like the story of a lot of French people who "go up" to the capital.
Yes, but this change was very painful for me. I get divorced, with a two-year-old daughter. I was torn, but I left for Paris. There Thierry Riesser promised me a lot of nice things, including working together, but once I got there it didn't go as planned. So I left him because I saw that I had to change course and I doubted the quality of the relationship. So I gave up everything and found myself penniless in the capital. Luckily a friend – who will later become my wife – helped me out and helped me settle down. Once again I began a whole series of studies with André Ratio, a kineo-osteo-homeopath at the time, then a doctor a little later, because he himself went back to school. He founded a college at the crossroads of all these techniques and in relation to Chinese medicine. He built a large number of links between these different disciplines. This is the first time that he organized, with other famous names, this study through monthly internships and I can tell you that it was high level!
During this time I met the immense Dr. Jean-François Borsarello[viii] and I did two years of classes with him. He was a great acupuncturist whose books are very well known. Once again, it was incredible for me, a fantastic chance. I went there at the nerve, I met him and confess to him that I wasn't an acupuncturist, but that I just came back from Japan and was in Shiatsu. With his Southern accent, he told me: "ah, I like it! You can come.", and there I was immersed in a high-level acupuncture course. He didin't really give classes in the classical sense of the word, but once a month he brought together all the great acupuncturists from Paris and France and they exchanged with him on the difficult cases they encountered in their practice. I still remember, we used to meet at the Paris Observatory, in the magnificent place of Thérèse Bertherat[ix] – a disciple of Françoise Mézières[x] – who had created the Antigymnastic. In short, it was a period of intellectual bubuling even if, honestly, at the time the level was too high for me. I remember the name of Dr. Haxwawini who is very famous today and was part of the group.
But how did your life start in Paris, because beginnings don't seem easy, do they?
It was a patient, a lady, who lent me an apartment to help me out for three months, because the beginning was really hard. I didn't have a penny in my pocket. Finally, I met a physiotherapist who helped me with the patients and I managed to rent just across the street from his place. Then he introduced me to an acupuncturist and thanks to them I started to have patients. I can say that my professional life started right away, as it was already the case in Montpellier, only with the help of doctors. That's why I have never separated Shiatsu from a medical approach and always had an incredibly good relationship with this field. In fact, they would send me their difficult cases or those they didn't want to medicate. Another doctor, a woman who later became an official doctor in the Senate, joined the first group and there people began to come in droves. Five years later, I moved to the Mouffetard district – 35 rue de l'Arbalète – in a charming building called "Villa Médicis". And here, the incredible thing is that it was in this same building where my father was born in 1928. It had a strange effect on me, especially since he was just passing through, since we were originated from the South or Burgundy, but not from Paris.
These were blessed years of complete immersion in Shiatsu. I worked 8 to 10 hours a day as I saw it done in Japan. I would even do up to 18 treatments a day for a while, with no breaks between sessions except for lunch. I don't encourage anyone to do this, but I wanted to immerse myself – body and soul – in Shiatsu. Today I'm quieter, I decided to slow down last year and halve it, I only do 6-7 people a day. But this allowed me to go beyond technique, beyond thinking, to be stirred by the katas of Koho Shiatsu. I did that for 15 years. At the time, I didn't want to talk about it, or to teach it, but to live it as an in-depth worker. In fact, I called myself the "shadow practitioner" because I didn't have a plaque or a doorbell with the word Shiatsu on it. Nobody knew me in our community, everything was done by word of mouth for the patients and that was it. The local pharmacists and doctors knew that there was a physiotherapist in the neighbourhood who had no sign and who went barefoot all year round. (Laughs)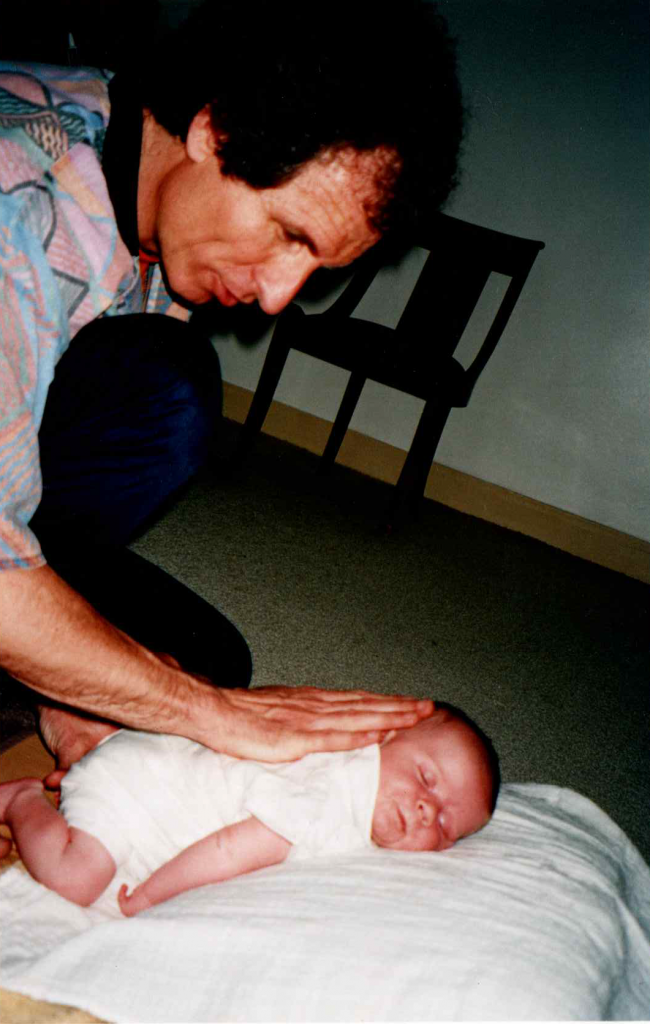 But how is it possible to keep up such a pace over such a long amount of time?
It wasn't me; it was a force that carried me away and allowed me to work like this. It was like a painter who worked for years in his studio and said nothing and showed nothing until he is satisfied with his work. Shiatsu is an art, a Way, and you can't live it mediocrely, at least that's my point of view. I was possessed by this life force that wanted to live in me.
It's like the "black work" in alchemy!
Yes, that's it! I forged my mind, my body, my technique on thousands of bodies. In 1991 something happened. A woman who had only been here once gave me an incredible experience: I took her pulse and I felt two razor blades behind my ears. I screamed out in pain, everyone was startled, and I told myself that this pain, which was so sharp, was not mine. I asked her: "But madam, what have they done to your ears?" And then she answered: "three weeks ago I had an operation on my ears to have them fixed". I had just felt the surgeon's scalpel in my own body!
There I understood several huge things in my construction as a therapist. First of all, that there is no separation between me and the other, that I can let the sensations come back into me to better heal them. Then, that I felt something that had happened three weeks before, so the past-present-future time is a smoke screen, it doesn't exist. We can connect at any moment in time. And at that moment I heard a voice saying: "now you have to work with this". After that, I was so transformed that I stopped training, I didn't want to learn in a classroom anymore. And I went down inside myself to walk for 10 years, in the shamanic way as were the original manual healing in fact, even in China or Japan for that matter.
What an amazing story! And Qigong in all this, because today it is an important part of your life and your teaching to develop energy in students.
At that time, there was only the family and Shiatsu, my wife and three children. I slowly started to teach in a few workshops and in my first class there was Michel Sarre in 1987 (E.N.: currently one of the great Shiatsu teachers in France, based in the South-West area). It was in the "Jardin des plantes" in Paris, with a Brazilian of Catalan origin that I met Qigong. He didn't want to teach me and asked me to read "The Way of Energy" by Lam Kam Chuen and if I liked it I could call him back afterwards. I then discovered the tree posture and I started by myself. The first time my body shook. The second time it was even stronger and I started to worry. The third time my body shook so hard that I lose control and felt like I was in the ocean, being tossed around by the waves. One of the waves was so strong that I made a body exit, I left the earth and traveled. That's why I was talking about shamanism earlier, because if you haven't had some experiences like that you don't really know the world of Qi. The next day the Qigong teacher accepted me as a student. I practiced with him for 5 years, once a week, but with the obligation to work every day. Otherwise he wasn't interested because he considered this daily work indispensable. And the incredible experiences added up, especially in the evenings by the way. I have to say that I got hooked, because it's a wonderful technique. Qigong is now part of my life, to nourish my being, my energy, my heart and Shiatsu. It's as if a master guides me from within and comes in turn to nourish the inner master of the patient in the Shiatsu session.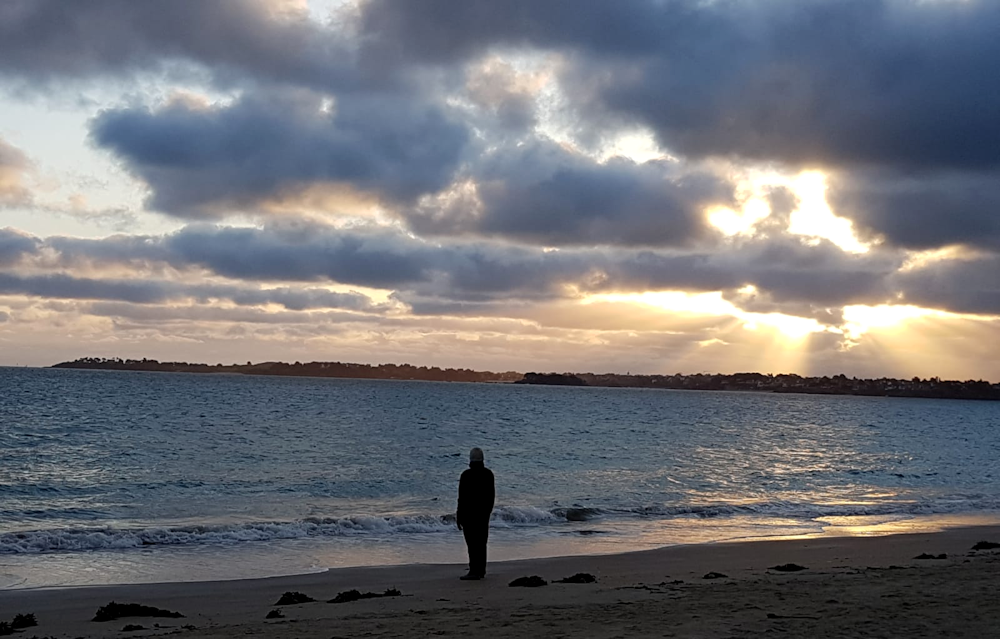 Let's talk about Shiatsu, your Shiatsu. By observing you for several years, I realized that there are three constants in your way of practicing. The first one is the introduction of music into the practice. Explain this to me.
It's all because I did a lot of music when I was young. Then when I started my Shiatsu studies I had a whole group of friends who were professional jazzmen and who awakened me to this dimension. Jazz is special because you listen, you play, you improvise, you bounce, but you stay in rhythm. Music is very joyful, it allows me to live life like a little child that I remain inside of me. I feel at the same time like this joyful child and also like an old man who knows things from all eternity. And the child gives a hand to the wise old man. There is a phrase from Cervantes which says: "Keep in your hand the hand of the child you have been". This is what I do every day and it brings simple but profound joy.
When I meet a patient, when I touch a body, it's like I'm reading a music score. Not every part of the body should be touched with the same rhythm, the same tempo. It's like the acupuncturist's needles that go to different depths depending on the point. And then, the person has a kind of inner symphony and I compose on it. The two of us form a duet and we listen to each other, in tune, and end up playing a piece together.
Is there any other deeper music?
Yes, there is an universal music, it is the music of the world, of time, energy, life and sometimes also of illness. There is a cosmic tempo[xi] that beats the measure and you have to know how to listen to it, better still, to hear it. There is also a cosmic tuning fork and that is what the Taoists felt. When the rhythm comes, there againI'm not the one who decides when to take a break. It comes as if someone was talking to me aloud "there, you have to stop"! That's why in "my" Shiatsu there are regular pauses, with the hands resting, connecting to the depth. Then it starts again. The advantage is that Shiatsu becomes very lively this way, no two sessions are the same. But that's also how it is when I teach. I hear myself talking and soon it's not me anymore. I don't talk anymore, I am spoken. I don't teach anymore, I am taught. It's not the same thing at all, do you understand?
Yes very well, it happens to me regularly when I'm teaching too. The second constant of what you have now called Sei Shiatsu, the Shiatsu of the "sincere Man", is the preponderant place of the Heart and the spiritual dimension. We find again the importance for you of the Christian message and at the same time the Indian and Eastern spiritual dimension. When one receives a Shiatsu from you, one clearly feels much more than mere pressure.
Of course! So, people don't know much about it, but I had a grandfather who worked in India in the time of Gandhi. As a result, the family house in Montpellier was full of objects from that country, beautiful objects, carpets, pieces of bas-reliefs, Buddhas and so on. And this man passed on to me very early on an interest in Indian spirituality. He talked about India all the time and I drank his stories as a child. He told us the story of the 10 avatars of Vishnu to us grandchildren, so yes, I fell into the pot when I was very small, as they say. Since then, I have read most of the writings of the great Indian masters who are incredibly powerful and I have become acquainted with the Divine Mother[xii], the mother of all mothers, the one who cares for the wounds of all humanity, the very expression of universal maternal compassion and love. All therapists should have this experience of the Divine Mother to deal with people's pains and misfortunes. If this Divine Mother is not with you, what's the point; you are all alone, so small! If She is with you, you always come out victorious.
Among the Chinese we speak of Sheng Ren, the "upright or noble man", who thanks to his virtue and compassion goes beyond his own dimension and can then heal. I'm not the one who says it, but the first 11 chapters of the Suwen: "The accomplished Man makes his Heart a mirror". And also "The hand realizes what the Heart dictates" says Zhuang Zi ; this is the main idea that I made mine.
In the West, on this side of the planet, all healers are connected to Christ. Jesus is still the one who shows that with the laying on of hands one can heal. No true healer heals without dedicating his care and his life to Christ, because he is the master of healers. And among Muslims it's the same. They call him ʿĪsā. If a Muslim dreams of ʿĪsā, the marabout or the imam will say to him "go heal, because you are now a healer". I have a Muslim student who dreamt that Christ kissed her hands and washed her feet. Not once or twice did she look for a discipline to practice, a healing to give, and now she is doing Shiatsu. Can you imagine? We'd say, well, it's just a dream. And no. Heaven is looking for servants and receptacles. Do you want to be one? God has no hands other than ours!
The reason for success in Shiatsu is when the Heart is like a blaze, a devouring flame because it burns what is not good in other hearts. And when the dross of the Heart is burnt, then there remains Joy, an immense joy, the joy that knows that one is non-separated, infinite and immortal. "The soul does not fear death, it knows that it has infinity as its spouse," says Al Maari the Sufi.
This is something to meditate on and to approach the depth of our profession. Finally, the last essential component of your Shiatsu is the importance given to Chinese medicine. However, not everyone makes this choice.
For me there is no way around Chinese medicine, or in the broader sense Eastern medicine, because it's a human science that is phenomenal in its breadth and depth. Except that, there are only books for doctors and no books written for healers. When we work with the hand, we don't go through the mind, so we don't write about it. It's about the unspeakable. The sensations are not transmissible. If I say to a student, "Do as I do", he cannot. And if someone asks me how I do to feel what is happening in the other, I don't know how to say it. I feel it and what I can do is help the student turn his or her gaze inward.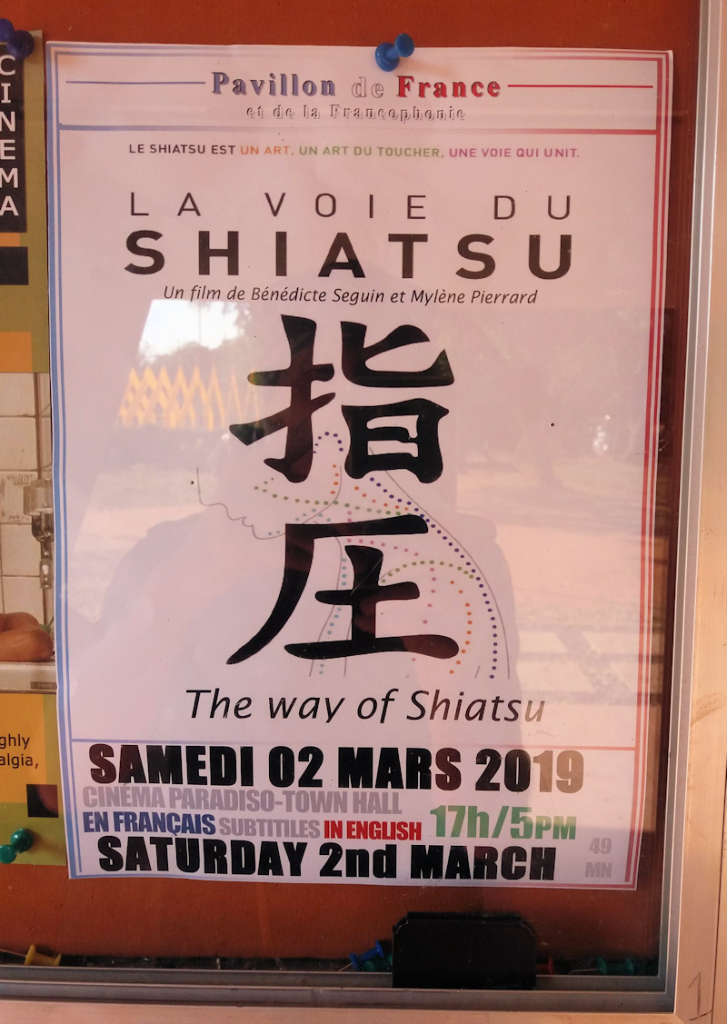 In fact, Chinese medicine provides a solid foundation that we need to know, but we can't stop there. First came the desire to heal, it has to come from the gut. Then you go up into the mind and learn the rules and laws of Chinese medicine. Finally, we go back down into the belly and the hands. As I was saying during the course, if we feel the laws of Chinese medicine like "Heart descends into the Kidneys, Fire warms the Water", then the hands become the custodians of these laws and apply them. It is a powerful phenomenon, we just tested it this afternoon, it is incredibly fertile! It's not insignificant to do that. So yes, we must learn Chinese medicine, but to integrate it and then forget it. As soon as you're in a Shiatsu session, it's now time for hands to speak, because they follow the movement of the Heart and have been educated by the great laws: the tissues, the meridians, the body fluids, the five elements… you hold these laws in your hands and they apply. As the researchers in quantum physics have said, matter does not exist, it is a fabric of relationships. Well, that's it! We put everything in relation and everything goes through the Heart. This is especially how we understand that nothing is separate, everything is related. Believing that one is another separated from the person one touches is such a serious illusion that it is destroying the world at the moment. It is as if the right hand said to the left hand "no, I don't know this person, I don't have a relationship with her, her problem is not my problem", it is as absurd as that. We are all connected, we are all woven of divine threads.
After 40 years of work, and in particular working on yourself, I have the impression that your Shiatsu is no longer what one understands in the academic sense of the term. You've exploded the framework to be finally only in the breath.
I still keep the protocols, the katas, because it is the road that leads to the breath, to the Qi and I am obliged to teach it, because it forges the students and structures the technique. But yes… for me it doesn't matter anymore. It is no longer Shiatsu sessions that I do, but each time an experience of encounter. I look for deep peace, the place in the person where peace remains to bring it back. This is what Zen practitioners describe as the "Hon Gen", the origin of the world where there is no wind or waves. This is where I try to go, to the place where everything is suspended and everything is possible. To do this it is necessary to go through the body to touch the Centre, and the Centre is not in the body. The answer my friend is blowing in the wind… (he hums). I leave you with that (laughs)!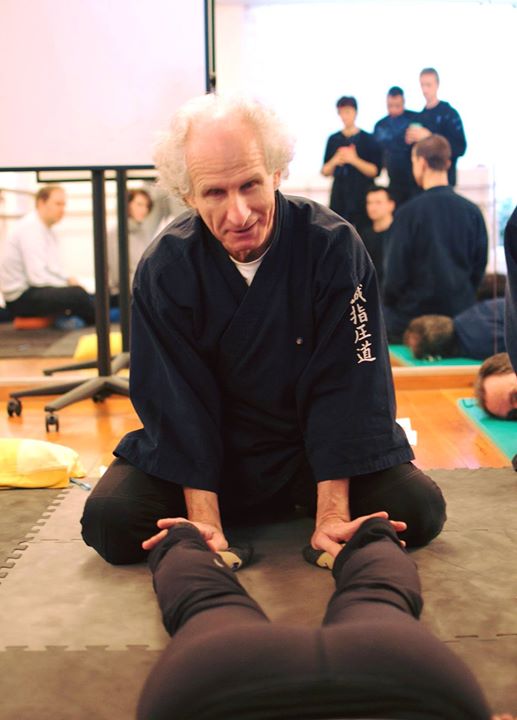 Thanks, I feel like I'm going to have a lot of fun transcribing this interview. I like to end an interview with a question for the readers. What would you say to practitioners and students so that they don't get discouraged during the years of study, work and trials that happen no matter what you do?
Without thinking, here's what comes to me right away is:
Make a deal with Heaven. Without Heaven man is really small. Heaven itself must be called Heaven. We need Heaven's agreement to open the path of our life. Man is Great if Heaven is with him.
Find your inner master to grow a little more each day, learn and work tirelessly, because the reward is always ready for those who take the trouble. The inner master is the inner life, it is the presence, the consciousness, the Self.
Never do anything reluctantly to be yourself and be happy to be yourself. And constantly rely on JOY!
Many thanks for what is no longer an interview at all, but a real journey through words. Have a good trip for the mission in India which starts in three days and see you soon on the tatami.
My pleasure.
---
Notes :
[i] Pioneers of Biodynamic Psychology in France, Christiane and François Lewin are the founders and main trainers of the School of Biodynamic Psychology.
[ii] Thierry Riesser is a figure of the martial arts world and one of the very first Shiatsu pioneers in France. He obtained the menkyo kaiden (the highest traditional Japanese diploma) from his school, was adopted by the founder Okuyama Ryuho and became heir to the Hakko-ryu school, which brought him much enmity from other Japanese masters. Finally, he left the school to found Okuyama-ryu in France. In Shiatsu he founded the FFSTJ (French Federation of Traditional Shiatsu in Japan) in 1975 in France, the first historical Shiatsu federation in France, not to be confused with the current FFST which dates from 1994.
[iii] To know more about the 8th light, read this article.
[iv] Thierry Riesser-Nadal committed suicide in Japan in June 2010 at the age of 60.
[v] Hervé Scala, physiotherapist, trained in Traditional Chinese Medicine, was one of the great names among therapists and trainers in bio-psycho-genalogy. His wife Mireille Scala is still active.
[vi] Clapping is an ancient Anglo-Saxon technique of respiratory physiotherapy. Today it is replaced by active or passive drainage allowing the acceleration of the respiratory flow (AFE).
[vii] Takashi Okuyama is currently the doshu (master of the Way) of the Hakko-ryu jujutsu school and Koho shiatsu.
[viii] Doctor-colonel Jean-François Borsarello (Air Force) is one of the pioneers of scientific acupuncture in France. He discovered acupuncture in Vietnam, when he was a young doctor of the French Expeditionary Force in Saigon. From then on, he never stopped being passionate about acupuncture, continuing his studies in Japan in 1965 with Dr. Yoshio Manaka at the Kitazato Institute in Tokyo-Odawara, from which he quotes some of his comments in his last book published in 2007 [Acupuncture et plantes de pocone]. Going as far as the Ninnaji Temple in Kyoto, he even photographed the famous manuscript I Shin Po (treatise on Japanese acupuncture), written by Tombaï Yasuyuri between 982 and 984. He left behind him many works including a dictionary of Chinese medicine.
[ix] Thérèse Bertherat was a student of Françoise Mézières. She founded the Antigymnastique. More information on this article.
[x] Françoise Mézières was a pioneer in France in physiotherapy with her postural approach. For more information, read the Wikipedia article.
[xi] This notion is to be compared to the "Om" of the Hinduists and Buddhists, the first vibration of the Universe which allows the creation of manifested worlds whose all matter is of vibratory origin.
[xii] According to the Hindus, the Divine Mother is the feminine expression of God.
Profile :
Ryuho Okuyama
Ryuho Okuyama was born in 1901 and was one of the students of the famous Sokaku Takeda (1859-1943), who transmitted Daito ryu to many people in Japan, including O Sensei Morihei Ueshiba, the founder of Aikido. This is why Okuyama sensei's Hakkō-ryū-jū-jutsu originated at the same time as Aikido. It is in 1938 that soke Ryuho Okuyama, then thirty-five years old and who had just finished his medical studies, opened his first dojo in Tokyo. The technique he taught, named hakkō-ryū, has its origins in Daitōryū aikijūjutsu, kito-ryū, takenuchi-ryū and tenshin-shinyo-ryū.
Through his medical studies, he learned acupuncture and developed a strong interest for manual care techniques. Some sources (still to be verified to this day) say that when Tokujiro Namikoshi opened his first Shiatsu clinic in Hokkaido in 1925, he did so in partnership with Ryuho Okuyama and they collaborated for 10 years before separating, making Okuyama one of the pioneers of Shiatsu in Japan.
But while Namikoshi insists on whole body pressure and leans towards Western knowledge, Okuyama prefers to remain faithful to the tradition of Kanpo medicine and meridians. After their split, Okuyama created his own form of Shiatsu called Koho Shiatsu, which is translated as Imperial Shiatsu. He trained many students, including Yasuhiro Irie (founder of Kokodo jujutsu and Shiatsu) and Doshin So (founder of Shorinji Kenpo). His first foreign student was Thierry Riesser, who became his adopted son and heir of the school. But the Japanese masters didn't hear it that way and chased him out of the school. Back in France, Thierry Riesser was one of the pioneers of Shiatsu in France and trained many practitioners through his martial school.
The Koho Shiatsu form is a martial style, centered on a basic kata, but which takes into account the whole range of diagnostic and treatment tools of Kanpo medicine. It is only taught as part of the jujutsu of the school hakkō-ryū, as it is a traditional school (kō-ryū) and therefore closed in on itself. This is the reason why this style had much less diffusion and resonance than those of Namikoshi or Masunaga.
Ryuho Okuyama passed away in 1987, leaving the direction of his Jujutsu school and Koho Shiatsu to his grandson, current soke Takashi Okuyama.